Amoxycillin Capsule 250mg + Cloxacillin 250mg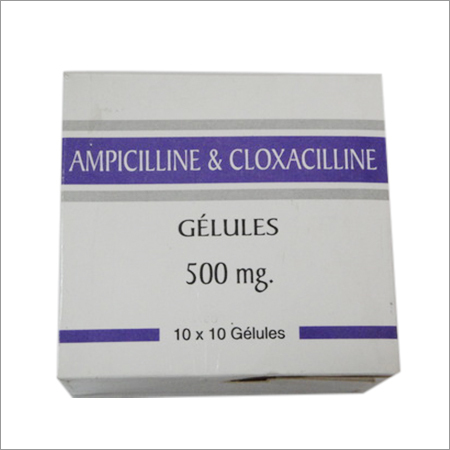 Amoxycillin Capsule 250mg + Cloxacillin 250mg
We are remarkable entity, engaged in offering superior quality Amoxycillin Capsule 250mg + Cloxacillin 250mg that is used for treating infections caused by certain bacteria. The offered capsules are processed by quality ingredients and highly advanced technologies. These Amoxycillin Capsule 250mg + Cloxacillin 250mg are used with other medicines to treat Helicobacter pylori infection and ulcers of the small intestines. Also, these capsules are properly tested on different parameters to assure quality range.
Uses
Cloxacillin is useful for the treatment of a wide assortment of bacterial infections. These are the types of penicillin antibiotics, which assist in stopping the maturation of bacteria. It is used only for the treatment of bacterial infections and not viral infections.
If you are taking the liquid mixture of this medication, shake the bottle in a well manner before all doses.

Precautions
When using Cloxacillin, avoid vaccinations and immunization, without doctors' approval.
Old people and newborns with sensitive kidney conditions are more sensitive to this drug.
Side effects :
Upset stomach
Nausea
Vomiting
Diarrhea
Gas
Mouth sores
Although exceptional, you may experience a black, "hairy" tongue while taking this medicine. This effect is inoffensive and normally go away after treatment. Hold out a good oral hygiene, and brush the tongue with a soft toothbrush two times a day.
N-31/1, M.I.D.C., Tarapur (Boisar), Dist: PALGHAR, Mumbai - 401506, Maharashtra, India
Phone :+917042546228
Fax :91-22-67556022
Mr. Neshith Manu Shah (Director)
Mobile :+919833112284, +919820402906
Factory Address.:
N31/1 MIDC, Tarapur Boisar, In Lane of Sarex. Dist Palghar, Maharastra- 401506